Crafting Seamless Experiences with Our Innovative Mobile App Development Services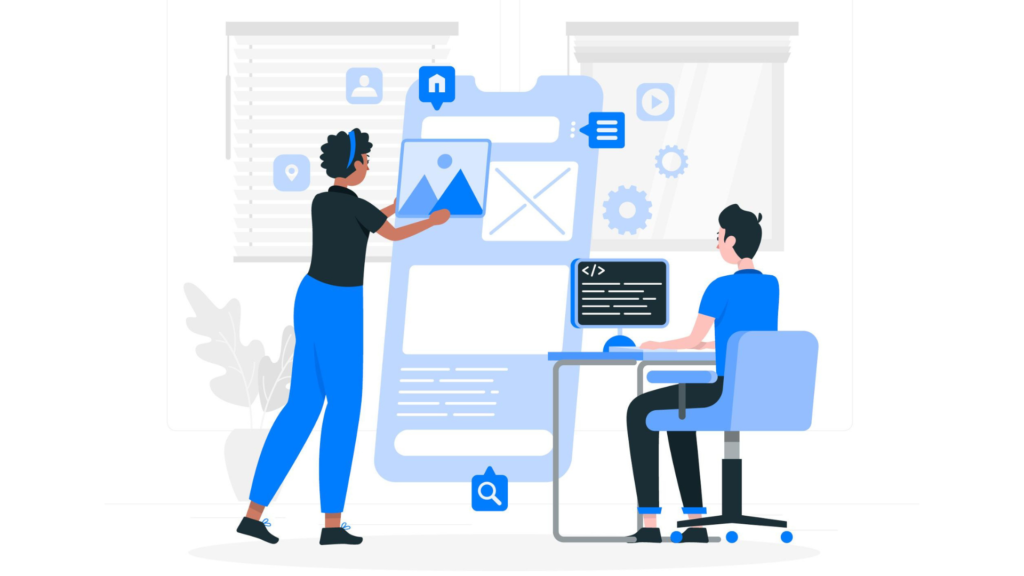 In a world where mobile devices reign supreme, having a dynamic and user-friendly mobile app is a game-changer for businesses. Samkit Digital understands the evolving landscape of mobile app development services, and we're here to simplify the journey for you. Our commitment is to provide comprehensive solutions, from conceptualization to mobile app maintenance services, ensuring your app stands out in the competitive digital market.
Welcome to Samkit Digital! We are your trusted partner to propel your business forward with the help of targeted lead generation services and customer acquisition strategies. High quality leads are not just an element for business success but a key component for the sustained growth of your business over time.
Witness The Power of Customization
Our mobile app development services go beyond the ordinary. We recognize that every business has unique requirements, and our team excels in crafting tailored solutions. From the intricacies of custom mobile app design to the functionalities that align with your business goals, our focus is on delivering apps that resonate with your brand identity and provide seamless experiences for your users.
iOS and Android App Development Made Easy
Navigating the complexities of both iOS and Android app development, we bring a wealth of expertise to the table. Whether you aim to tap into the sleek ecosystem of Apple users or the diverse landscape of Android enthusiasts, our developers ensure your app performs optimally across platforms, reaching a broader audience and maximizing your app's impact.
Samkit Digital: Ensuring Sustained Success With State-Of-The-Art Mobile App Maintenance Services
At Samkit Digital, we think mobile app development services are more than just coding. We prioritize your app's long-term success by offering meticulous mobile app maintenance services. In a fast-paced digital world, we understand the importance of keeping your app updated, secure, and aligned with the latest industry trends. Our maintenance services guarantee that your app remains a reliable tool for your users.
Advanced And Innovative Cross-Platform Development
For businesses seeking efficiency without compromising quality, our cross-platform app development solutions are the answer. We leverage the power of frameworks like React Native to build apps that seamlessly operate on various platforms. This not only reduces development time and costs but also ensures a consistent user experience across different devices.
Unlock the potential of your business with Samkit Digital's top-notch mobile app development services. Whether you are looking to establish a robust presence on iOS, Android, or both, we specialize in creating custom mobile app designs tailored to your unique needs. Our goal is to transform your ideas into intuitive and high-performing mobile applications that not only meet but exceed user expectations.
Start Your Journey Towards Success With Our Mobile App Development Services
Samkit Digital's mobile app development services are not just about creating apps but crafting solutions that elevate your business, connect with your audience, and contribute to your sustained success. Get in touch with us today, and let's turn your mobile app visions into reality!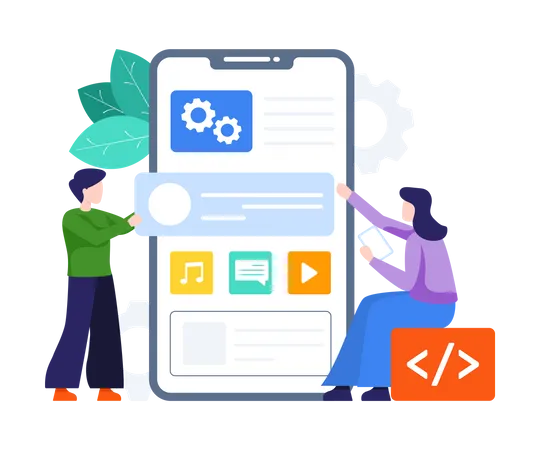 Transforming Business Through Mobile App Excellence: What We Offer?
At Samkit Digital, we take pride in offering a comprehensive suite of mobile app development services and custom mobile app design solutions that redefine the digital landscape for businesses. Our commitment goes beyond coding. We strive to provide end-to-end services that empower your business and resonate with your target audience. Explore the range of services that we offer to ensure your mobile app journey is not just transformative but also tailored to your unique needs.
Our team of skilled designers collaborates with you to conceptualize and craft designs that not only captivate but also enhance user experiences. We understand the significance of an app's visual appeal, and our custom mobile app design solutions are geared towards creating interfaces that are both aesthetically pleasing and intuitively navigable.
Whether your audience is entrenched in the Apple ecosystem or spans the diverse world of Android users, we've got you covered. Our developers specialize in cross-platform app development as well as in creating native apps for both iOS and Android platforms, ensuring that your business can reach and engage a broad user base. We optimize performance, responsiveness, and functionality, guaranteeing a consistent and enjoyable user experience.
Get efficiency without any compromise with our cross-platform app development services. Using cutting-edge frameworks like React Native, we build apps that seamlessly run on multiple platforms. This approach not only saves time and resources but also ensures your app maintains a uniform look and feel across various devices, enhancing user satisfaction.
We understand that each business has distinct needs, and our development process is driven by a commitment to providing feature-rich functionalities. From user authentication to real-time updates, we integrate functionalities that align with your business goals. Our goal is to create an app that not only meets but exceeds user expectations.
Our focus extends beyond the immediate development phase. We engineer mobile apps with scalability in mind, ensuring they can evolve seamlessly with your business. Whether it's accommodating a growing user base or integrating new features, our scalable solutions position your app for sustained success in the dynamic digital landscape.
Stay competitive with cutting-edge features. We specialize in integrating advanced functionalities like augmented reality, artificial intelligence, and IoT, enhancing the capabilities of your mobile application.
Partner with Samkit Digital for state-of-the-art mobile app development services that go beyond conventional boundaries. We don't just develop apps; we engineer digital experiences with custom mobile app designs that propel your business forward. Contact us today, and let us create innovative mobile app solutions for your brand
Why Partner With Samkit Digital for The Best Mobile App Development Services?
Selecting the right partner for mobile app development services is crucial for the success of your digital venture. At Samkit Digital, we stand out as a trusted choice, bringing a wealth of expertise and a customer-centric approach to every project. Here's why choosing us is a strategic decision for your mobile app development needs.
With a history of successful mobile app launches, we have a proven track record of delivering high-quality custom mobile app design solutions across diverse industries. Our portfolio showcases a range of applications that have not only met but exceeded client expectations.
Our team of skilled developers comprises experts in various technologies and platforms. From iOS to Android and cross-platform app development, our developers bring a wealth of knowledge and hands-on experience to the table.
Recognizing that each business is unique, we provide tailored solutions that align with your specific goals and requirements. Our approach involves close collaboration with clients, ensuring the end product reflects your vision and objectives.
We prioritize transparent communication throughout the development process. You will be kept informed at every stage, from project initiation to completion, ensuring that your expectations are not just met but exceeded.
Our mobile app development goes beyond immediate needs. We design solutions with scalability in mind, ensuring your app can evolve with your business. We stay updated on industry trends, ensuring your app remains cutting-edge and future-ready with specialised mobile app maintenance services.
At Samkit Digital, we believe that quality doesn't have to come at a premium price. We offer competitive pricing for our mobile app development services, providing exceptional value for your money.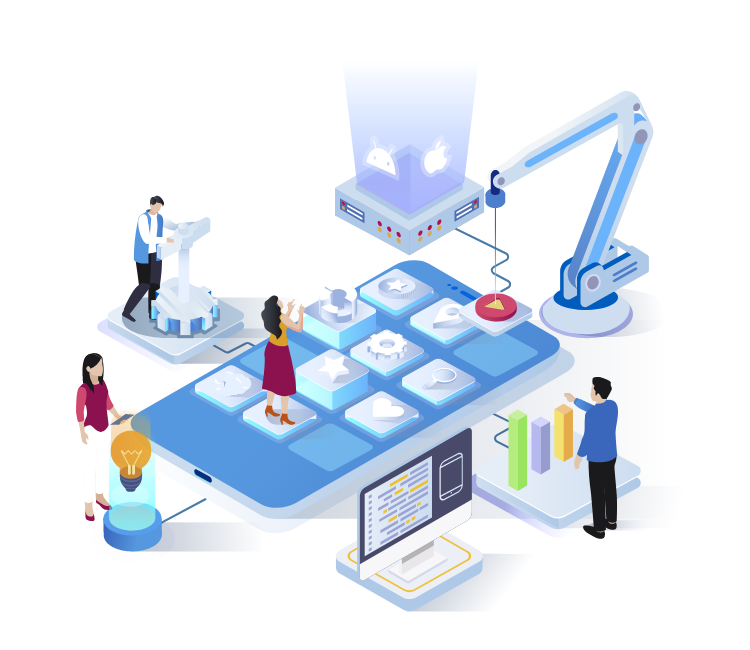 Mobile App Development Services That Your Brand Needs: Call Us Now!
In the dynamic landscape of mobile app development services, Samkit Digital is your key to success. Choose Samkit Digital as your mobile app development partner and start your brand's success story with innovation, reliability, and custom mobile app designs that stand out. Trust us to bring your vision to life, providing not just an app but a digital experience.
Contact us today and start your brand's mobile app development journey!