Bespoke Social Media Advertising Strategies To Drive Success For Your Brand
Ignite Your Brand's Online Presence With Us!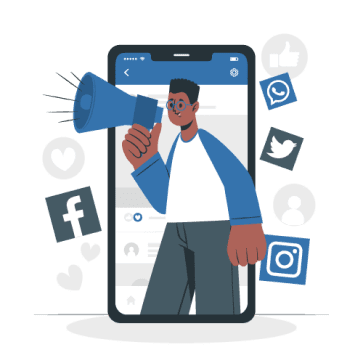 In today's dynamic digital landscape, effective social media advertising is no longer an option but a strategic necessity for businesses looking to engage and convert their target audience. Welcome to Samkit Digital, where we utilise the power of social media advertising to spark unparalleled growth for your brand.
At Samkit Digital, we offer a comprehensive suite of social media ad services designed to maximize your brand's reach and impact in the digital realm. Our team of experts specializes in formulating tailored social media advertising campaigns that adhere to industry best practices and leverage cutting-edge technologies. We offer all-inclusive social media ad campaign management services to businesses of all kinds and sizes.
We recognize the crucial role that social media advertising plays in modern marketing, and we are dedicated to helping your brand utilise the full potential of this dynamic platform. This is why we build targeted social media advertising campaigns for your brand. From Facebook ads to Instagram promotions, we provide sophisticated ads management services with a focus on precision, data-driven insights, and measurable outcomes.
At Samkit Digital, we pride ourselves on our ability to craft and optimize ad campaigns that can perfectly resonate with your audience, amplify brand visibility, and drive conversions. Our services encompass the entire spectrum of social media ad analytics, ensuring that every penny spent is a step toward your ROI goals. Being a leading Facebook ads agency in London and all across the UK,  we do not just cover Facebook but ensure your brand's presence on all social media platforms.
With us providing you with social media ad campaign management services, you can expect a comprehensive and methodical approach to targeting and engaging your audience effectively on any social media platform. With the help of our ads management services alongside strategic and targeted social media advertising, your brand can stand out in today's crowded digital space, achieving remarkable results and solidifying its digital presence.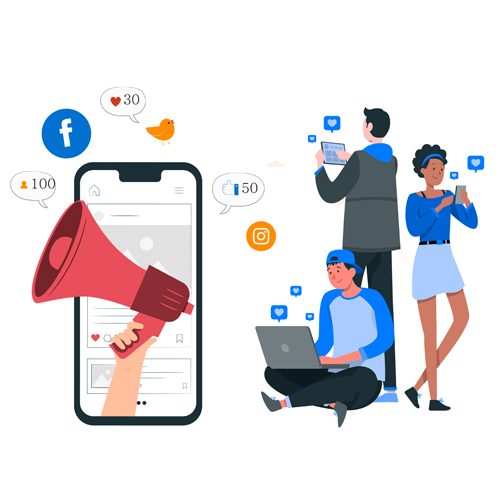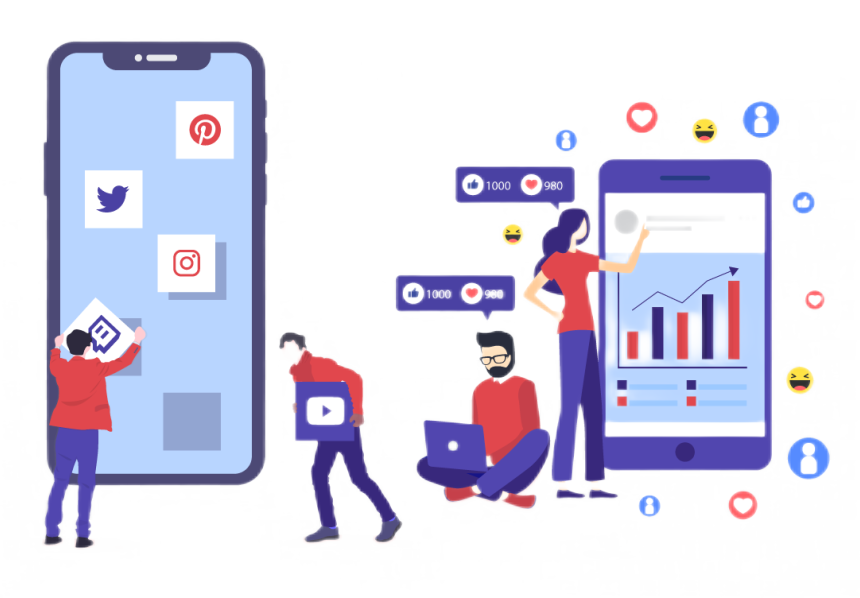 If you are looking to enhance your brand's reach and influence through social media advertising, explore the power of Samkit Digital's social media ad campaign management services and get ready to unlock a world of possibilities. We not only provide great results, but we also provide detailed social media ad analytics and performance reports. This ensures complete transparency on the impact of our social media ad campaigns.
We understand that every business is unique, and that's why we offer specialized social media ad campaign management solutions for unique business needs. We don't believe in one-size-fits-all solutions. Instead, our approach is driven by data, creativity, and a deep understanding of your brand's goals and objectives. Our suite of services encompasses everything you need for a successful social media advertising campaign.
We believe in the transformative power of social media advertising. Your journey to success begins here, with Samkit Digital. Contact us today to elevate your brand's digital footprint.
Enhancing Your Digital Presence: What We Offer in Social Media Advertising?
At Samkit Digital, we provide a comprehensive suite of services that empower your brand's targeted social media advertising endeavors. Our mission is to help you navigate the complex and ever-evolving landscape of social media advertisement while ensuring every campaign achieves its maximum potential. Here's a glimpse of what we bring to the table:
Our experienced team excels in developing and managing strategic ad campaigns across various social media platforms. We create campaigns tailored to your brand's unique goals and target audience. These campaigns are optimized for precision and results, ensuring that your brand's message reaches the right users at the right time.
We don't just run ads; we connect with your audience. Samkit Digital employs advanced audience targeting techniques to reach the most relevant potential customers. Whether it's demographic, geographic, or behavioral targeting, we ensure your ads engage your audience effectively and spark interest.
In the age of visuals, captivating images, and videos are key to social media ad success. We design visually stunning ad creatives that not only grab attention but also convey your brand's message effectively. Stunning visuals make your ads memorable and foster engagement.
We believe in data-driven decisions. Samkit Digital conducts A/B testing to fine-tune your ad campaigns continuously. Our advanced social media ad analytics provide actionable insights into campaign performance, user behavior, and conversions. These insights drive future strategies and refine ongoing campaigns handled by trained professionals with years of experience in ads management services.
Crafting compelling and persuasive ad copy is an art we've mastered. Our team of creative writers develops ad content that speaks directly to your audience's needs and desires. We tailor ad messaging for maximum impact and to inspire action.
The digital landscape is dynamic, and so are our strategies. We constantly monitor the performance of your ad campaigns in real-time. Any necessary adjustments, optimization, or budget reallocation happen promptly to ensure that your campaigns maintain their effectiveness.
The key to any successful social media ad campaign management strategy is the ability to measure its success. We provide you with detailed social media ad analytics and performance reports that allow you to gauge the impact of your social media ad investments. Our transparent approach ensures you know where every penny is spent.
We understand that budgets vary, and we work to maximize your return on investment. Our goal is to help you achieve more with less. Being a leading social media ad campaign management specialist in London, we optimize your ad spend to ensure cost-effectiveness without compromising on results.
At Samkit Digital, our targeted social media advertising services are designed to unlock the full potential of your brand in the digital sphere. We take a holistic approach, leaving no stone unturned in the quest for engagement, conversions, and measurable success. Your brand's digital journey is our responsibility, and we take it seriously. When you choose Samkit Digital for your social media advertising needs, you're not just getting ads management services, you're gaining a partner committed to your brand's success.
Comprehensive Social Media Advertising Services: Maximizing Your Reach Across Platforms
Samkit Digital is dedicated to providing an all-encompassing suite of ads management services to optimize your targeted social media advertising efforts. We understand that today's digital landscape is vast and diverse, comprising multiple platforms, each with its unique characteristics. As your trusted partner for social media ad campaign management, we ensure that your brand's message is spread strategically and effectively across various social media channels, encompassing but not limited to:
For brands seeking to tap into the visual discovery platform of Pinterest, we craft strategic ad campaigns, including Promoted Pins, video pins, and shopping ads, to harness its creativity and inspire user engagement.
If your target audience includes younger demographics, Snapchat advertising is essential. Samkit Digital creates captivating Snap ads, Story ads, and Collection ads to make your brand resonate with the Snapchat generation.
The explosion of TikTok offers a unique opportunity to connect with an engaged audience. Our TikTok ad services cover in-feed ads, branded challenges, and top-view ads to harness the virality and creative energy of this platform.
These are just a few of the platforms we specialize in, but our expertise in social media ad campaign management is vast and versatile. We adopt a platform-specific approach with our ads management services for each of these channels along with social media ad analytics to maximize your ad reach and engagement while optimizing costs.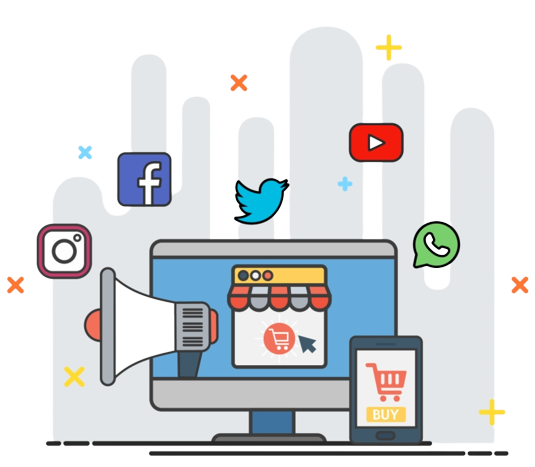 Utilise The True Potential Of Social Media For Your Brand: Talk To Us Today!
Through Samkit Digital, your brand gains a partner with the technical know-how and experience to navigate the intricacies of these diverse social media platforms. Our mission is to help your brand capitalize on the strengths of each platform, achieve targeted engagement, and drive real, measurable results in the form of lead generation, conversions, and ROI.
If you're ready to explore how Samkit Digital can elevate your brand's targeted social media advertising strategies across these platforms, contact us today for all-inclusive social media ad campaign management services and start a journey of digital success.